U19AA Provincials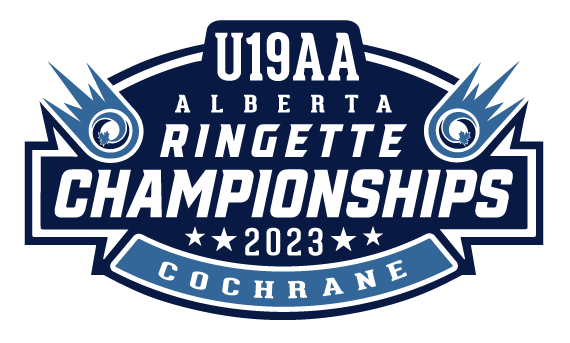 On behalf of the Zone 2 AA Ringette Association, our Executive and our Provincial Event Committee, it is with great pleasure that we welcome all competitors, coaches, officials, sponsors, parents, friends, and spectators to Cochrane, for the 2023 U19AA Provincial Championships.
We would like to thank the many businesses, who have offered their support as well as all the volunteers, committee and community members, that are helping to make this provincial event a success.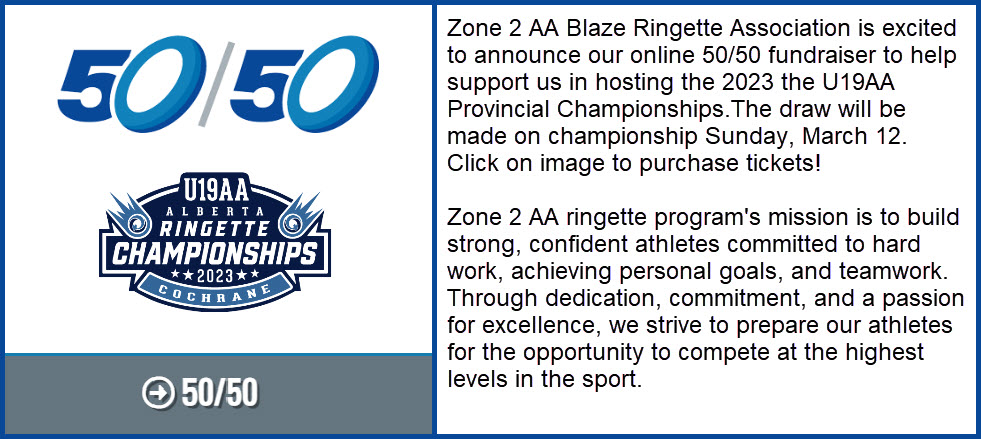 Host Contact Information
Tournament Coordinator - Lindsay Hough: lhough@live.ca
Apparel - Aaron Cowley: aaron@scenicmedia.ca
Spray Lakes Arena Bookings - Nicky Quigley: NQuigley@slsfsc.com
Office: 587-330-2746

On The Rocks Lounge - Morgan Gustafson: mmuise@slsfcs.com
RAB Rep - Kari Colpitts: kcolpitts15@icloud.com

Hotel Information
Bow River Inn
Group Block ID: U19 Provincials Ringette
403-932-7900
3 Westside Drive
Cochrane AB T4C 1M1

Days Inn
Group Block ID:N/A
403-932-5588
5 Westside Dr
Cochrane AB T4C 1M1

Super 8
Group Block ID: Zone2 - U19 Provincial Ringette
844-838-0484
11Westside Dr.
Cochrane AB T4C1M1

Sandman (22km from Cochrane)
Group Block ID:183414
403-288-6033
125 Bowridge Dr NW
Calgary, AB T3B 3R6
Arena Map (Link to Cochrane)
1) Spray Lake Sawmills Family Sports Centre
800 Griffin Rd E, Cochrane, AB
2) Cochrane Arena (Older Arena)
609 Fourth Ave N, Cochrane, AB
Arena Map (Link to YMCA Rocky Ridge)
3) YMCA at Rocky Ridge
1300 Rocky Ridge Rd NW, Calgary AB

Provincial Apparel
Clothing Order Deadline is February 10, 2023

Contact: Aaron Cowley at aaron@scenicmedia.ca
Order Form and Styles with Sizing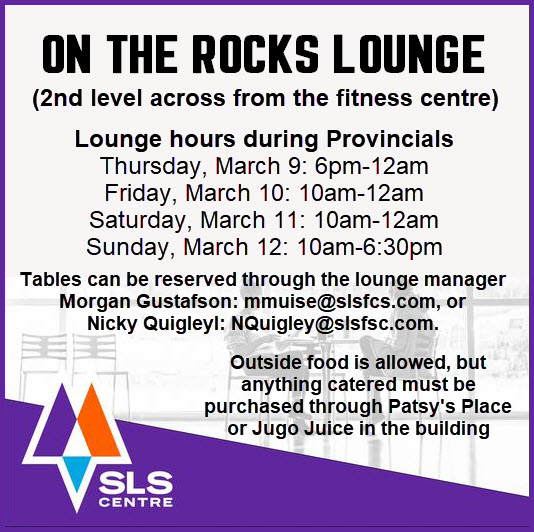 Skate Sharpening
Skate Sharpening is available on site through Dangle Show Hockey located within the main arena lobby.
Dangle Show Hockey
(403) 404-7469
800 Griffin Rd E, Cochrane, AB
Sport Check
(403) 851-3638
60 Quarry St Unit 4, Cochrane, AB
Canadian Tire
(403) 851-0770
55 Quarry Street East, The Quarry Shopping Centre
Cochrane, AB